Nagpur is Qatar Airways' 13th destination in India with the airline introducing a daily service between Doha and Nagpur.
Average flight time is just over four hours.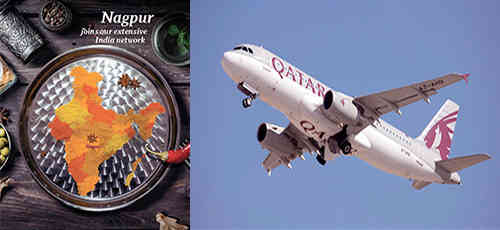 Here's the schedule for the Nagpur-Doha service:
Nagpur-Doha Daily Flight Schedule
QR 589 Depart 03:45 Arrival 05:55
Doha-Nagpur Daily Schedule
QR 588 Depart 19:55 Arrival 02:15+1
The choice of Nagpur, Maharashtra's third largest city, is not surprising since it is a major trade and business center.
The Government of India has identified Nagpur as one of the flagship smart metropolises and a special economic zone, multi-modal international cargo hub and a new airport are in the pipeline.
A320 Aircraft to Doha
For the Nagpur service, Qatar Airways is deploying the A320 aircraft with 144 seats in a two-class configuration of 12 seats in Business Class and 132 seats in Economy.
Besides Nagpur, Qatar Airways offers services to 12 other Indian cities (Ahmedabad, Amritsar, Bangalore, Chennai, Goa, Hyderabad, Kochi, Kolkata, Kozhikode, Mumbai, New Delhi, and Thiruvananthapuram).
In 2016, Qatar Airways will add three new U.S. cities to its route map – Los Angeles, Boston and Atlanta.
So U.S. desis in the three cities will have more flying options while visiting family and friends in India.