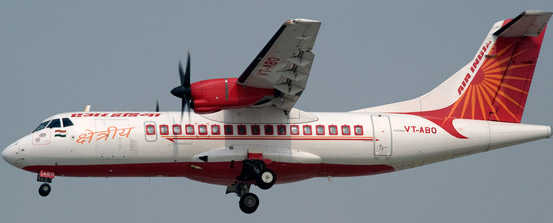 Air India subsidiary Alliance Air has launched a new Bengaluru – Vijayawada flight using the smaller ATR 42-320 aircraft.
The inaugural flight AI-9507 took off from Bengaluru for Vijayawada on Friday, April 1, 2016.
The ATR 42-320 is a 48-seat twin engine plane with a 2×2 seating configuration.
Five Flights
The new service will operate five days a week, on Monday, Tuesday, Wednesday,Thursday and Friday.
Flight AI-9507 will depart from Bengaluru at 1600 hours and arrive at Vijayawada at 1730 hours.
On the return leg, service AI-9508 departs Vijayawada at 1750 hours and reaches Bengaluru at 1920 hours.
The new service will help flyers from Vijayawada to connect to several domestic and international destinations via Bengaluru.
Also, passengers arriving into Bengaluru from the Gulf, Europe and North America and domestic destinations will now be able to connect to Vijayawada through the new service.